What's Your Six-Word Story?
Win a Stay at The Press Hotel in Portland, Maine
Micro-storytellers: reach for your pens. Do you enjoy modern luxury with a touch of vintage chic? Then New Yorker Promotions and Autograph Collection Hotels want to hear from you.
The Autograph Collection is offering one lucky reader (and pithy writer) the chance to win a trip for two to The Press Hotel in Portland, Maine, including a two-night stay, a taste of New England at UNION restaurant, and cocktails at the Inkwell Bar—an experience that's truly beyond words.
Here's how to enter: tweet a six-word story about why you want to win a trip to The Press Hotel. Don't forget to include the hashtags #Autographin6 and #sweeps.* Looking for inspiration? Here are a few nuggets to get you started.
Did you know?
The Press Hotel has a literary lineage. It's located in what was once the Gannett Building, home of the Portland Press Herald, Maine's largest newspaper. The Herald moved out in 2010, but it left a few things behind: Look out for the antique scale that was once used for weighing enormous rolls of newsprint.
There are over 130 islands in the bay surrounding Portland, including Horse, Hope and Haskell Islands, and the Junk of Pork. To see them, hop aboard a Casco Bay Lines ferry.
Casco Bay is most beautiful at dusk. Paddle out in a kayak at sunset and soak in the marvelous vistas.
Maine's most famous artist once lived and worked nearby. Perched on the rocky coast of Prouts Neck, Winslow Homer's studio is now a monument to the great painter.
The Press Hotel sponsors a "pop-up park": The Federal Street Folly hosts artists, musicians and designers in a unique, pedestrian-friendly space.
Click here for Official Rules.
This sweepstakes is now closed. Please check back for future promotions.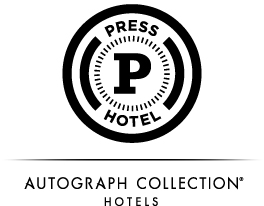 ---